Linear Power, Inc. 241 South Poplar Street D'Lo MS 39062 USA
Phone:(601) 932-8477 Phone2:(601)-675-7134 Fax:(601)-675-7154 email: info@linearpower.com
LP5.2©
Designed and built here in the USA.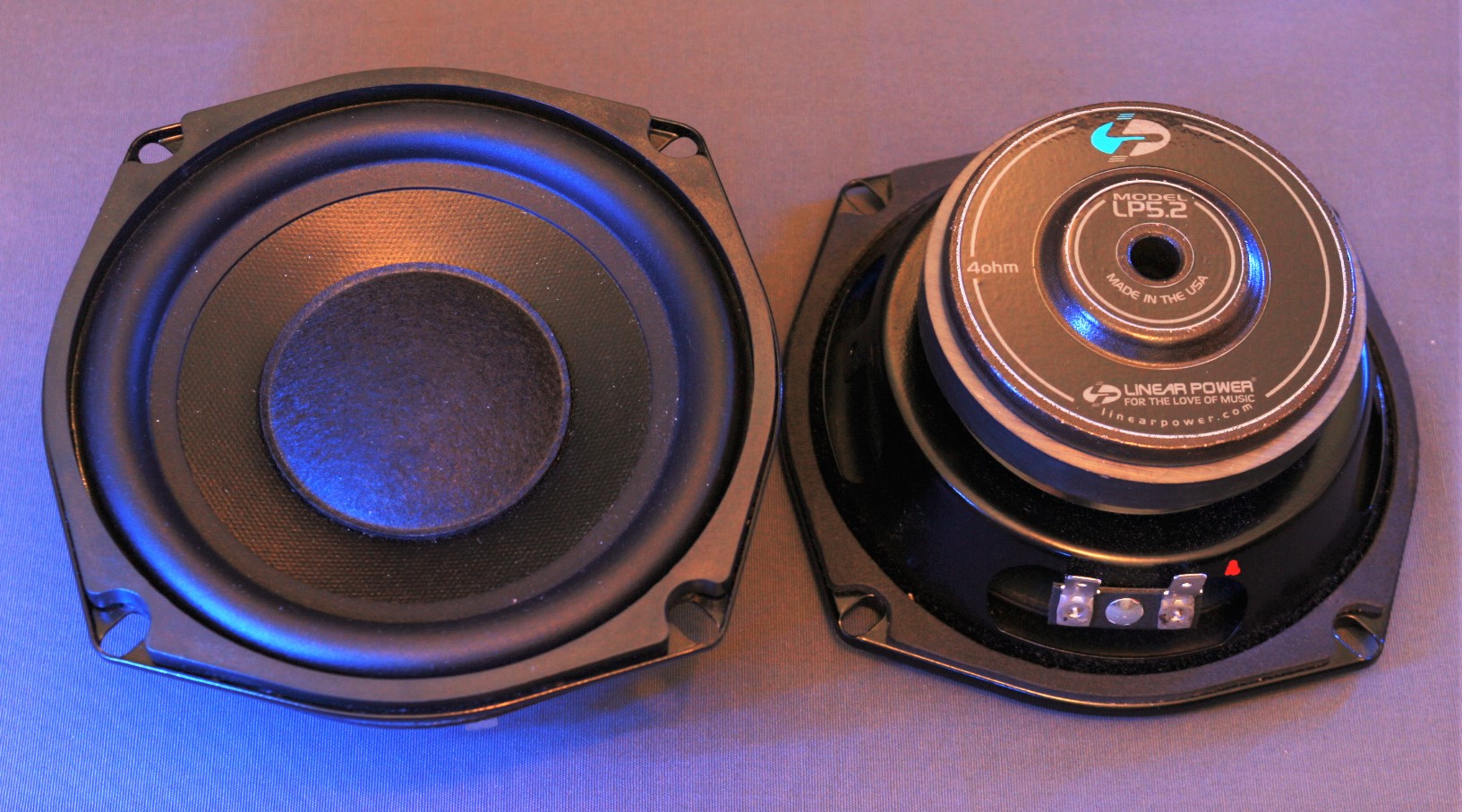 Linear Power™ does not allow internet sales
For MSRP pricing or to order directly from Linear Power™ in the event there is no authorized dealer in your area Click Here.

Woofer Specifications
Model
Speaker Type
Power Handling

*

Frequency Range (Hz)
Resonant Freq. (Fs)
Sensitivity dB (2.83V/1M)
Impedance
DC Resistance (Re)
Xmax one direction
Vas (liters)
Piston Area-Sq. In. (Sd)
Qes
Qms
Qts
LP5.2©
Midrange
80 Watts
55hz - 6000Hz
68
88.1
4
3.5
N/A
7.935
15.27
1.244
4.239
.950
*

Assumes unclipped signal
Woofer Dimensions
Minimum Recommended Enclosure

**

Cutout Diameter (Decimal Inches)
Cutout Diameter (Fractional Inches)
Mounting Depth (Inches)

***

0.20 cubic feet
4.6875"
4 11/16"
2.25"
**

Tailor this to your needs. For ported enclosures add ~20% volume and tune accordingly

***

Speakers with vented pole need at least 1" clearance for cooling
All Linear Power™ woofers have a bumped backplate and an extended pole piece. The "bump" allows more room for voicecoil travel. The extended pole piece improves magnetic force and reduces distortion when the motor assembly nears the limit of linear exursion.
The additional material adds more heat sink for the voicecoil. The backplate and pole are one piece which provides better heat transfer than cheaper two piece units. Even the black paint is designed to improve heat transfer. The LP5.2© pole piece has a 5/8" vent in the center to move enough air to cool the voicecoil.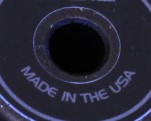 We used Kapton™ for our voice coil formers for several reasons. It has a very wide working temperature range, it is dimensionally stable throughout its working temperature range, and it is incredibly light. It allows the voicecoil heat to be transfered through it to the pole piece unlike Aluminum formers which will heat up the glue that holds the former to the cone and spider. Aluminum formers are prone to expansion when they heat up. Kapton™ does not do this. It also does not have problems with high frequency resonances common with Aluminum.
All this addes up to a tough woofer. Instead of giving theoretical numbers randomly decided upon in a marketing meeting we believe everyone should know how much heat (watts) our woofers can actually handle. The 5.25" woofer handles an honest 80+ watts.
Most manufacturers rely on their cosmetic dustcap to seal the rear of the cone from the front. All Linear Power™ woofers have an inner dust cap to do this. The rigid outer dust cap is sized so that it acts as a structural element to reduce cone flex which reduces distortion.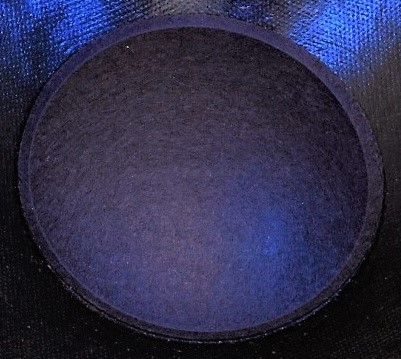 A butyl surround guarantees you won't ever have to worry about it rotting away. The Rubatex© gasket allows a positive seal for those wanting to mount from the front of the woofer.




You don't get this kind of accurate midrange and bass response from a 5.25" driver just anywhere. In one of our test vehicles we are using this driver in stock speaker locations with some sound deadening and people comment on the sub even when the sub is off!
Kapton™ is a registered trademark of Du Pont
Rubatex™ is a registered trademark of Rubatex International, LLC

© Linear Power, Inc. - ALL RIGHTS RESERVED
LINEAR POWER is a trademark of Linear Power, Inc.

Legal Information